Self Help Affirmations Resources

Affirmations are phrases that you repeat to yourself often in order to change your self-talk, or what you say to yourself on a regular basis. They can be highly effective in changing the way you see yourself, and the way you think about the world and what is possible in your life.
Our lives are a mirror of the thoughts we think on a consistent basis and the beliefs we hold deep in our subconscious. Unfortunately, though, a lot of times our thoughts and beliefs are focused in a negative direction and we end up creating less-than-satisfying results in our lives. By using affirmations and repeating them to yourself often, you can change your thoughts and beliefs, and therefore change the results in your life.
There are a ton of resources out there, but these are a few of my favorites.
Learn More Secrets to Creating Your Ideal Life
---
A great resource which I recently discovered offers a fun twist on affirmations. Stephanie Ross and Wendy Lutter started Empoword (pronounced Empowered) a few years ago to offer on-the-go affirmations for today's busy on-the-go lifestyles. They put a single word on everyday items, such as coffee mugs (that's theirs above!), t-shirts, water bottles, greeting cards, and non-adhesive stickers for the bathroom mirror or refrigerator door, to keep you focused on that quality throughout the day. Their products are fun, affordable, and most importantly they keep you moving in the direction of your goals! Their website is also a good resource for anyone interested in learning more about affirmations, visualization, or meditation. Be sure to read their recommended reading list and download their free worksheet to help you set intentions, achieve goals, and manifest your dreams.

The generous folks at Empoword have granted a 5% discount on all their products to everyone who goes to their site via www.selfhelpgoddess.com, so be sure to go check out their website!


Follow this link to check out Empoword.


---
Another effective resource I have found is by Karim Hajee, who recently released his Power Affirmation series. These are audios (either CD or MP3's) filled with affirmations chosen specifically by Karim to improve your results in the areas of wealth, confidence, procrastination, and fear/anxiety (there's a different audio for each area). It is recommended that you listen to the audios every single day, but honestly I've gotten results just from listening whenever I find a few free minutes here or there. For example, if I have a long subway ride I'll grab my iPod and listen to one of these programs and I feel great when I get to my destination! If you listen to these audios consistently, you will find yourself carrying out new behaviors and thinking new thoughts automatically in about a month or two.
He offers the following programs: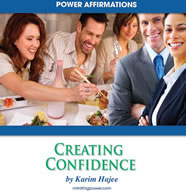 -Manifesting Wealth & Abundance
-Creating Confidence
-Stop Procrastinating
-Eliminating Fear & Anxiety

To check out this powerful self help affirmations resource, go here.

Learn More Secrets to Creating Your Ideal Life