Self Help Vision Board Resources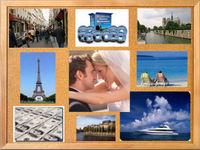 Vision boards have been around in the self help arena for awhile now, but they are just now becoming popular and getting the recognition they deserve as effective tools for creating things in your life. Sometimes called treasure maps, vision boards are basically a collage that you create to show what you would like your ideal life to look like. You can also do vision boards that only focus on one area of your life, perhaps your ideal relationship or your finances.
Learn More Secrets to Creating Your Ideal Life
---
There are several self help software programs out there today that allow you to create a vision board (Jack Canfield, John Assaraf), but personally I prefer taking the cheaper route and creating my own with some old magazines, scissors, and glue. Just grab a poster board, a stack of your favorite magazines, and start cutting out images, phrases, or anything that catches your eye and represents something you would like to attract in your life. If you can, use pictures of yourself in your vision board to make things feel more real. You want to trick your mind into thinking you are already living your ideal life, so it can go out and create it for you!
Make sure to focus on what you would like to create, rather than the absence of something. Let's say you are trying to quit smoking: You would want to cut out a picture of a man or woman who looks healthy, vibrant, and full of energy to represent you being smoke-free, rather than cutting out a picture of a cigarette or a pack of cigarettes with an "X" through it. Remember that what we focus on is what we create in life, and you want to send your subconscious mind the clearest possible directions for creating what you want. Your subconscious mind doesn't process "no" or "not" or "don't", so send it images of what you want in your life rather than what you are trying to get rid of.
---
Another great product I recently discovered is called a vision book and you create it using The Unfolding Your Life Vision Kit by Jennifer Lee. I met Jennifer at a conference awhile back and she had brought a small vision board with her, which looked like a pocket-sized accordion. I thought it seemed like a great idea to have a portable vision board, and then I found out she was the creator of it! What makes this so powerful is that you can easily fold it up and take it with you wherever you go. Therefore, you can look at it as often as you like to focus on your goals and reinforce them in your subconscious mind.
The kit has everything you will need to create your vision book. It includes paper to make the book, as well as a DVD that shows you how to fold the book (it's easy!). There's also a CD/MP3 that leads you through a guided visualization to help you identify what it is you truly wish to manifest in your ideal life. Finally, a booklet is included that walks you through the entire process. Not only does it show you how to create the vision book itself, but it also helps you get in touch with your deepest values by posing coaching questions to guide you on your creative journey.

This is perfect for anyone who is constantly on-the-go and wants to take their vision board with them!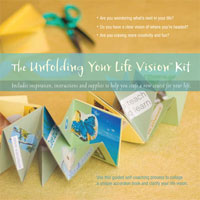 ---
For those of you on Facebook, use The Ultimate Vision Board application to create a self help vision board. Simply upload pictures of what you would like to create and move them around on the bulletin board to arrange them as you wish. The vision board at the top of this page is one I created on Facebook in about five minutes! Once it was finished, I printed and hung copies of it around my home so I can stay motivated and focus on my dreams throughout the day.
Learn More Secrets to Creating Your Ideal Life